Zoo2moo will automate the migration of videos that were recorded by the Zoom meeting plugin in Moodle to your Vimeo account, and embed them in exact course in Moodle. 

For privacy – the videos will be available only from your Moodle domain, or any domain that you will set in the Zoo2Moo console. After the recording has ended – the Zoo2Moo cloud service will transfer it to Vimeo, and the Zoo2Moo Moodle plugin will embed it in your Moodle relevant course as a resource below the invitation to the Zoom session. It also works well with a recurring event (each recording will appear as a link under the Zoom invitation in Moodle).
The whole process is automated, and after it 

ends – the Zoo2Moo service will delete it from Zoom recordings.
Academic
A fully automated process for transferring videos from Zoom to Vimeo and embedding them in Moodle. The lecturer is not required to do a thing (this includes recurring Zoom event recordings).
The videos are transferred as soon as they are ready on Zoom servers.
Extended analytics on Vimeo: viewing volume, viewing habits and more
Moodle interactive plugins like (H5P, Annoto and more) work well with the embedded videos.
Zootube – a video portal that organizes all embedded videos for easy access (an add-on at additional cost).
Video transcription and closed captions – an optional feature at additional cost.
Management
A consistent process for managing Zoom meeting recordings, no more videos scattered on different systems and presented in different ways to the students.
Full video administration in the Vimeo portal.
All recordings are arranged in folders.
Organizational opening & ending slide for all recordings.
Customized video player (logo, speed and more).
Editing capabilities without downloading the recording to your computer.
Additional backup – in addition to the embedded copy, another copy can be backed up in a separate location (an add-on at additional cost).
Zoo2Moo Console – an administrator dashboard to track and manage recordings and their transfer process.
Finance
Reduce support and "manual work" by using the automation of the migration process. Time is money.
Save up to 80% in recording storage costs – Vimeo storage is cheaper than Zoom storage.
Save 95% in Backup on "cold" storage.
Savings in Zoom licenses – there is an option to buy licenses only for Concurrent sessions and not for all the teachers/lecturers.
How it organized in Vimeo
All recordings are organized in folders: year => Moodle courses-id.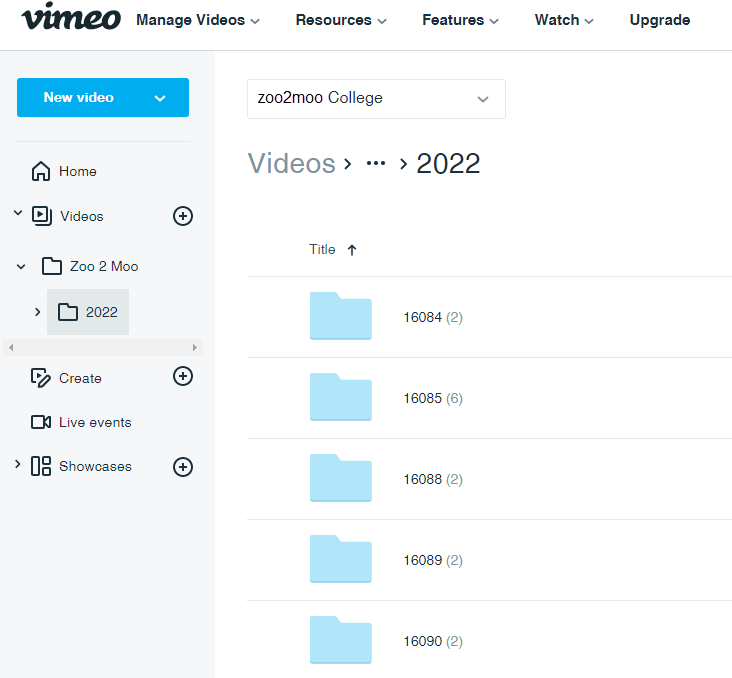 How it looks in the Moodle course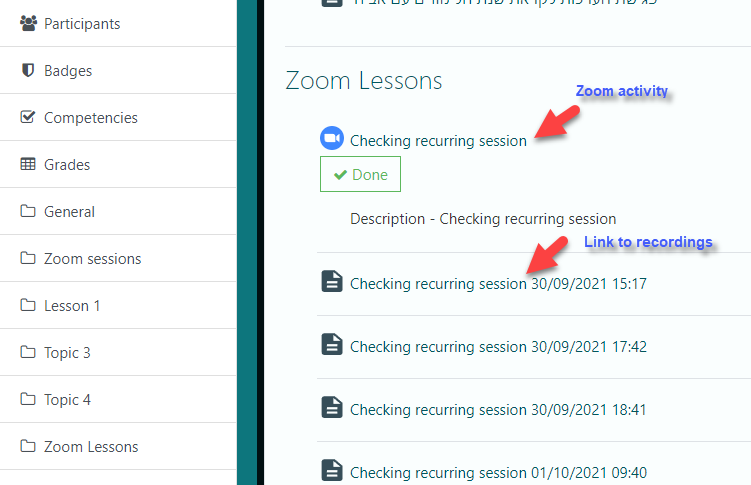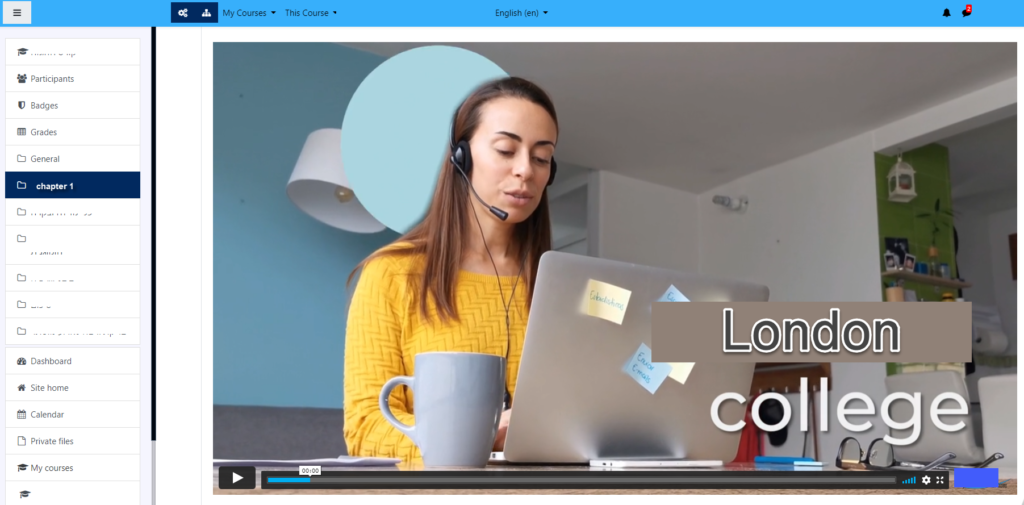 "An excellent product!
We stopped managing recordings, and working with the lecturers became easy. That solution saved us money and headaches"
Gilad H.
"Genius idea.
Lecturers in our organization can finally use H5P to decide what is hidden and what is presented to students. We no longer have to manage the deletions in Zoom and everything works automatically."
Ilan B.S.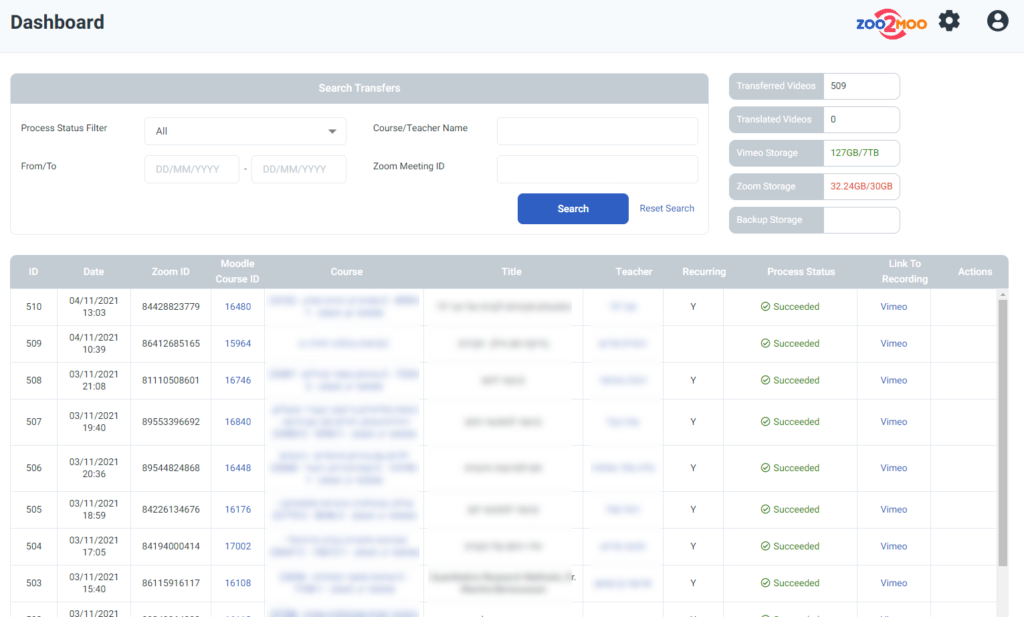 The "back office" of Zoo2Moo's cloud service:

Moodle 3.7 version & up with Zoom meeting plugin installed.
Zoom organisation account.
Vimeo Pro or Premium account (premium is highly recommended). 
Register/Sign in to Zoo2Moo Admin portal.
Download & install Zoo2Moo plugin in Moodle.
Add your Moodle link.
Add Zoom & Vimeo account credentials.
Set up migration settings.
Enjoy!
Feel free to contact us!
For your convenience, in a 5 minute Zoom session, the Zoo2Moo team will assist you and do all the needed configuration!
sales@zoo2moo.com